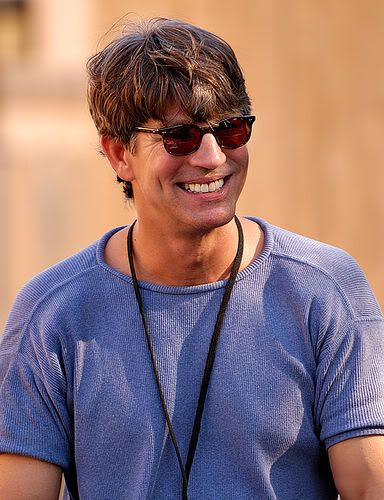 If you read this blog with any frequency, you know that yours truly, The Phantom of the Landfill has a soft spot for Eric Roberts. As well as a soft spot in my head, but that's another story…
I went a little bit into Roberts' background in
my post on "American Strays" which you can read here.
As I mentioned in that post, Roberts had quite an auspicious start (including an Oscar® nomination) but ultimately ended up toiling for many years in low-budget, often DTV (direct-to-video) productions. Some of his films from that period would be right at home on Channel 7's late night schedule. Click on the titles below to see trailers to some likely Landfill candidates:
"Shadow Men"
"Dead End"
"Raptor"
"Restraining Order"
Roberts' detour into DTV land was most likely due to too much competition for the "big roles" and a harder edge than some of the more "pretty boy" leading men types more than anything else, as his acting has for the most part been uniformly good and sometimes even great over all this time.
But beyond his acting skills, he's just a nice guy. Here's how I know:
• He's appeared in not just
one
one but
two
films with a
friend
of mine, who told me how great Roberts was to work with. This is further backed up by the commentary tracks where the other co-stars mention their fondness for Eric.
• I got to meet Eric myself a year and a quarter ago at an autograph show and I could tell not only from my personal experience with him but from how he treated everyone else there that he was a real class act.
Besides being a nice guy, he's very cool, too. When I told him I wanted him to autograph a photo that I could give my dad as a Father's Day gift, I mentioned that one of my dad's favorite movies is
"The Pope of Greenwich Village."
Roberts got very excited and said, "don't worry, I'll take care of him – I know just what to do!"
He signed the photo, "Tell Charlie they took my thumbs!" Just great.
Back to his career: Eric's fortunes began to change when he was cast as a bad guy in the hit TV series
"Heroes."
And this weekend that roller coaster ride is poised to get even faster: Roberts is back on the BIG screen, and from all accounts, the screen doesn't get any bigger this year than with the spectacle that is genius director Christopher Nolan's
"The Dark Knight."
Roberts plays a mob boss in the latest Batman epic, and in just about every review I've read that mentions Roberts, he's getting stellar notices.
This is also a good opportunity to laud Nolan as well. Back in the Hollywood Studio System days, Nolan would probably have been an underpaid contract director working with b-movie casts and b-movie budgets turning out what would later be hailed as film noir classics. I'm convinced of it. His films
"Memento"
and
"Insomnia"
are pure noir, and he has gone on record as saying
his latest Bat-pic is intended to be noir as well.
So fans of low-budget filmmakers and actors have double reason to feel good this weekend, with both Roberts and Nolan hitting a home run. Get out there and support them (and besides, it's
BATMAN!
)!
Here's Roberts being interviewed about "Heroes" – enjoy!