This is just one of several films from the "relative or houseguest secretly plans to rip apart the family and do us harm" genre. Sometimes it's a step-parent (who could forget Terry O'Quinn as
"The Stepfather?"
), sometimes a tutor (Shannon Tweed feeling a bit
scorned
), sometimes a live-in health care professional (Lisa Zane, awfully irate with her job as
"The Nurse"
). And of course, sometimes it's a
nanny.
In fact, it's often a nanny. So much so that the "evil nanny" genre can basically be called a sub-genre of the "relative or houseguest secretly plans to rip apart the family and do us harm" genre. Noted entries in the "evil nanny" sub-genre include
"The Hand that Rocks the Cradle"
(of course) and
"The Perfect Nanny."
Now comes 2006's "The Stranger Game" with its own evil nanny, but this time with a twist: this time it's a
male
nanny. BUT... even
that's
not a new twist, as evidenced by Hulk Hogan's turn 13 years earlier as
"Mr. Nanny."
Except Hulk was a
benevolent
nanny, not a malevolent one menacing the family of Mimi Rogers.
Mimi Rogers
is someone the Phantom likes to refer to as a "utility actress." Like utility players in baseball who can play any position, utility actresses are those who can play any role (and apropos of nothing, a lot of them seem to be brunette as well – in addition to Mimi, consider actresses like
Dana Delany
and
Christine Lahti
). Talented women who can a play devoted wife or a devious mistress; an evil boss or a conscientious employee, a totally rational person or a completely unhinged one.
The rest of the cast is what the Phantom refers to as "TV actors." These are folks who spend a lot of time on episodic TV shows, sometimes as a leading or recurring character but mostly as guest star. They usually supplement those roles by appearing in TV movies like this one. And they are often Canadian like this movie's supporting stars,
David Orth
and
Sonya Salomaa.
The Phantom doesn't know a great deal about these two, but suspects that even they have small, loyal cadres of followers.
The "been there, done that" quality that the plot descriptions hint at is confirmed by Richard Sheib in his
review on the Science Fiction, Horror & Fantasy Film Review website.
One word from his review sticks out above the others: "predictable."
Then again, trading in originality for exploitive thrills, no matter how derivative, seems to be a hallmark of the movies Channel 7 runs in their weekend late movie time slot… making "The Stranger Game" a prime example of a Late Nite Landfill movie.
The Phantom couldn't find a trailer or even video clips for this one, so you'll have to settle for some stills instead. There's action aplenty... as well as a
non-recommened misuse of a nail gun
... in the following shots. Feel free to create your own captions or dialogue if you want. Maybe even print these out, staple them together and start flipping the pages. Then you can pretend it's an actual trailer with moving images: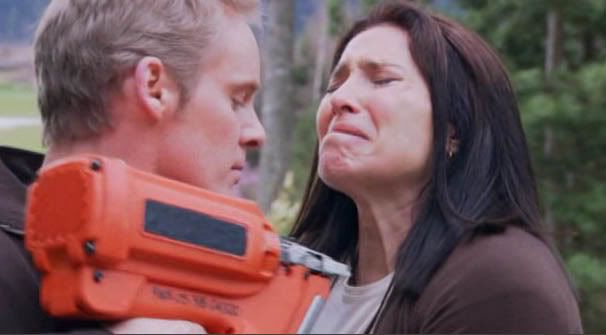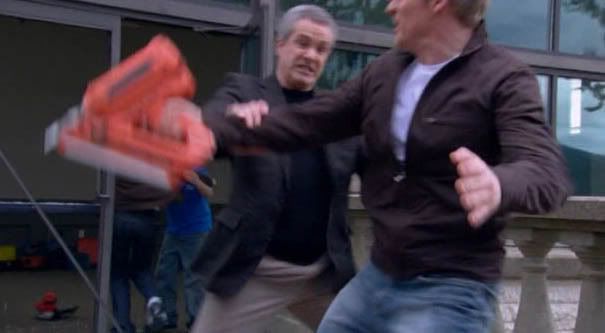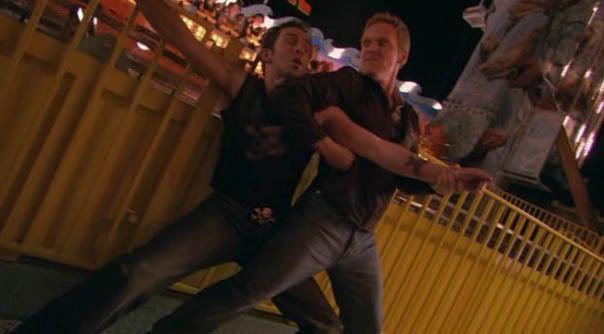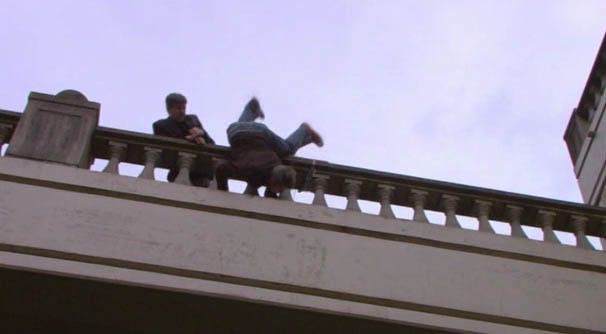 Or you can watch the entire film on WABC-TV Channel 7 on Sunday, April 27th at 11:35 PM... if you dare!